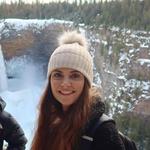 Updated by Rebekah Richards
This guide will help you to understand the booking journey through the eyes of your customers, the main touchpoints for them and how their experience will differ from yours as a staff member.
The customer booking journey
Within the customer journey, there are two options when it comes to accessing services. Customers can either book an appointment for a specific day and time slot, or they can join a queue which allows them to wait for the service.
Note: Depending on the individual settings of your branch/store, the order of steps and information within the steps may vary.
Booking an appointment
Booking an appointment as a customer is similar to the staff experience, typically following these steps:
Select a service (categories can be used to group services)
Select a location
Next available and Quick book features allow customers to access the soonest possible appointments and speed up their booking experience.

Choose a time and date
Enter the customer's details (first and last name, email address and mobile phone number)
Review booking
Confirmation
From the confirmation screen the customer can Reschedule their appointment or Print their confirmation.
Joining a queue
Note:
This option will only appear if you have queuing enabled. Please 
contact JRNI Customer Support
if you would like to add queuing to your offering.
Joining a queue is an alternative to booking an appointment for a specific date and time. The image below shows where a customer would select to join the queue.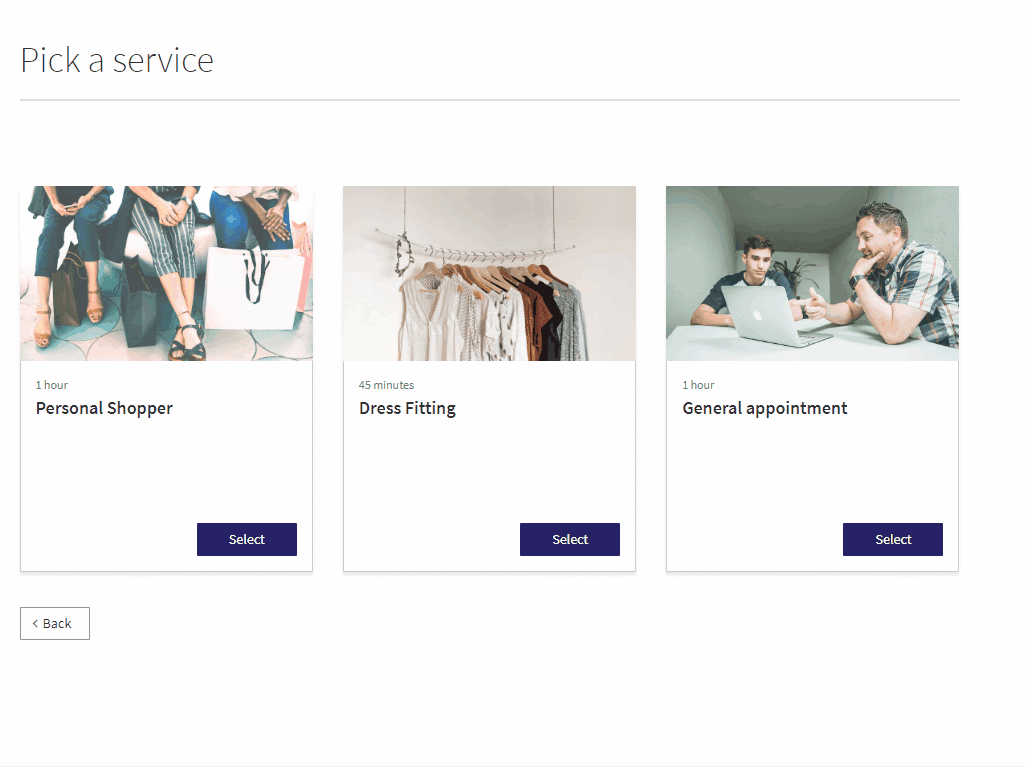 If a customer chooses to join the queue rather than book an appointment, they will appear within the Concierge page in Studio where staff can manage your queue and available staff members.
Once a customer has joined the queue and finished the booking process, they will be shown their position in the queue within the confirmation screen. Within this screen there is a Track queue position button, which will give the customer real time updates on their position.
There is also a note at the top of the confirmation screen which informs the customer that if they have provided a phone number, they will be contacted via SMS when they are next in the queue to be served.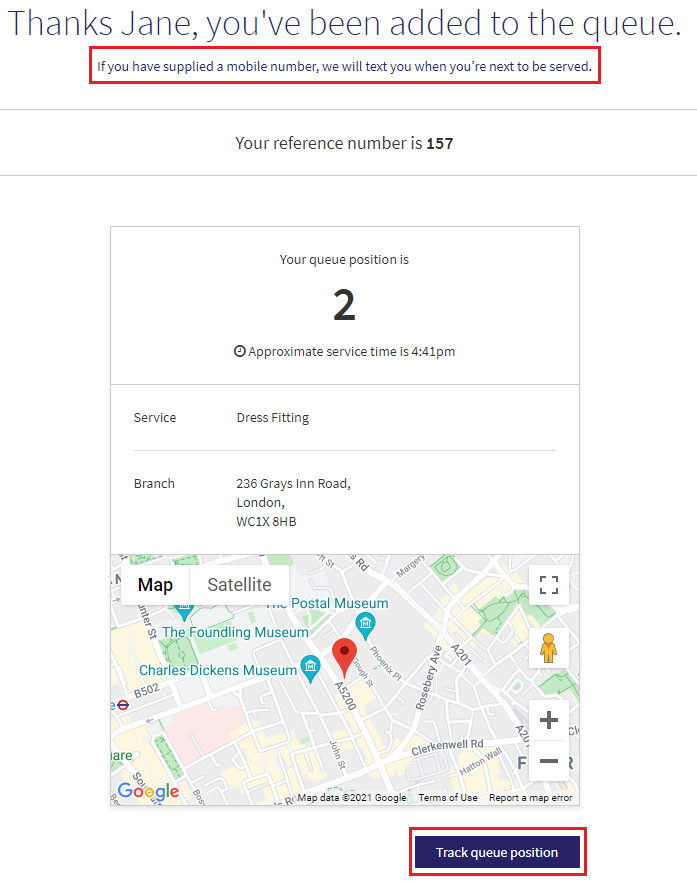 For more information about queue management, view the Managing live queues via the Concierge page article.
Appointment availability
The appointment availability that customers see is determined by two things:
Staff schedules: schedules are created and amended within Studio. If you would like more information on creating staff schedules, refer to the Creating and managing staff availability article.
Time slots: the time slots that customers see (e.g., 9:20, 9:40; 10:00) are calculated based on your timestep settings, a service creation setting. More information can be found on this in the Creating and editing services article.
Appointment confirmation 
When a customer completes the booking process, they will be shown a confirmation screen which will summarise their appointment or queue position.
The features that can be shown on the confirmation screen are:
Reference number
Queue position
Service (Personal Shopping, Dress Fitting etc)
Method (in person, phone or video)
Duration of service
Date and time of appointment
Branch location (the address is removed for phone or video appointments)
Customer details
Map view of branch location
Note: The features shown will vary depending on whether the customer has booked an appointment or joined a queue.
Notifications
Depending on the settings of your store/branch, upon confirmation customers may receive confirmation via SMS or email also. This helps the customer to keep a copy of their confirmation should they need it to remember the time, date and location.
Notification settings can be amended within Studio if you navigate to Settings > Basic Settings > Notifications.
Related articles
Still have questions?
If you have any further questions about the customer booking journey, please contact JRNI Customer Support, who will be happy to help.